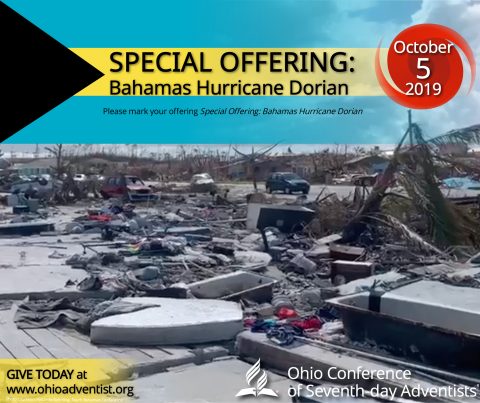 Many of you have seen the news reports on Hurricane Dorian and the devastation in the Bahamas. One of our Ohio Conference pastors, Ashton McFall of Village/Mason and Hamlet Churches, pastored for five years in the Bahamas, 2.5 of those on Abaco, one of the islands hit hardest by Dorian. Pastor McFall has agreed to be our liaison with the South Bahamas Conference, enabling all donations to be utilized by those most in need in the North Bahamas Conference, now out of commission.
During their September 10 meeting, the Ohio Conference Executive Committee authorized a one-time special offering for October 5.
Donations may be made online and/or in your local Ohio Conference church, anytime between now and the end of October. 
DONATION LINKS ARE BELOW.
You may also give via your offering plate (Ohio Conference only), earmarking donations "Bahamas Hurricane Dorian," or send checks directly to the Ohio Conference: 1251 E Dorothy Ln, Dayton, OH 45419.
Questions? Contact Heidi Shoemaker, communication director at hshoemaker@ohioadventist.org.
Donate online via Adventist Giving HERE (under conference/union)
Donate online via PayPal - no account required
---
This is the Ohio Conference, and we are here for YOU!
As a Seventh-day Adventist leader, member, or friend of the Adventist Church, you are part of a bigger family of faith! Our conference family wants to help you with the everything you need to help your churches and members to grow in Jesus.
Presently here in the state of Ohio, we have 100 churches and companies, 20+ ministries, 11 K-12 schools, three early learning centers, and a year-round camp.
Take a moment to explore our ministries and discover ways you could become involved in sharing the Gospel of Jesus, helping our communities grow in Bible knowledge, equipping and mentoring our young people, encouraging a praying church, and visioning for the future of the Ohio Conference.
---
Did you know you can give your Tithe and Offerings on your favorite mobile device?

Use the Adventist Giving App! Here is how...
Don't find your church listed? That means your church has not yet enrolled in Online Giving. Begin the process today! Visit https://adventistgiving.org/ to get started and for details. 
---
Get Started in Your Online Experience Today!
Click & explore to grow!
*This website works best right now in Firefox & MS Edge browsers